Latest topics
»
You know it is hot when you turn down jobs
by
milspec6
Today at 11:04 am
»
Why I was away
by
milspec6
Yesterday at 10:11 pm
»
Pressure washer help
by
steamprony
Yesterday at 9:02 pm
»
Connection with the largest contractor in my area.
by
Freemind1
Yesterday at 5:04 am
»
that's a 1st, ugh!
by
milspec6
Tue Jun 20, 2017 10:20 pm
»
After a long winter
by
milspec6
Tue Jun 20, 2017 10:19 pm
»
Setting customer expectations.
by
milspec6
Tue Jun 20, 2017 10:14 pm
»
Adding on work while you are there.....
by
Freemind1
Tue Jun 20, 2017 8:36 pm
»
Happy Father's day !
by
Mo
Mon Jun 19, 2017 1:03 pm
»
Hi From Scotland
by
milspec6
Thu Jun 15, 2017 1:25 pm
»
Thought on my pricing.
by
Freemind1
Wed Jun 14, 2017 8:43 pm
»
any fishermen?
by
Freemind1
Wed Jun 14, 2017 5:52 am
»
Urine Stain Charges
by
milspec6
Mon Jun 12, 2017 10:27 am
»
Yelp vs Google
by
Freemind1
Mon Jun 12, 2017 8:22 am
»
30 year reunion
by
milspec6
Mon Jun 12, 2017 7:00 am
Well, I am going to install a propane belly tank on my box truck after-all now.  As many of you know, I have been reluctant to do that thus far due to the lack of filling sources available in my area, but I located one today.
The company that fills all the 500 - 1,000 gallon tanks in the rural areas have agreed to let their route driver fill my tank IF he was in the area.  They really want to sell me a 250 gallon tank with an electric pump, but it isn't cheap and I really don't want one in my backyard.  Besides, the route driver is an old friend of mine that actually drives past me going to / from work so I should be able to get hooked up with propane about once per week at the least.
I ended up with a rather smallish tank (20.3 gallons), but it needed to fit between some support brackets beneath my cargo box on the Isuzu NPR and I wanted it to be no more than 100 lbs. to make it easier to install and remove by myself.  I forget how much propane the LG heater uses, but it should be enough to get me by this time of year.  I might have to add a second tank come spring, but I will deal with that then.
Hopefully, it will get here quickly so that I can be ready for the holiday cleaning rush....I have that bank to clean, 480 event chairs, and another 8500 square feet building all during the final week of the month.  It would be nice to have this tank installed and ready to rock by then.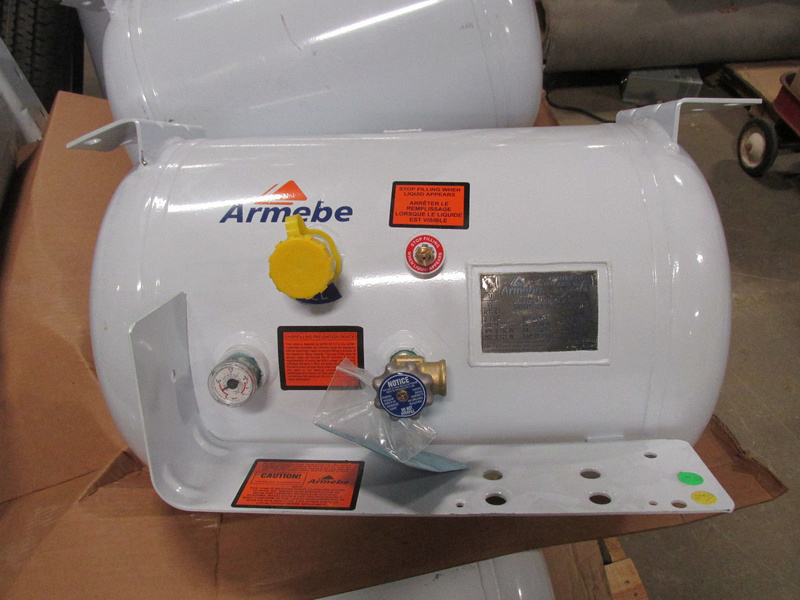 Wow ! You really are busy ! Makes me want to move there now, lol.

dp1

Moderator





Posts

: 3510


Join date

: 2013-09-19


Location

: california



Busy for a few weeks only Dp.....doubt there will be much going on after that. I will be trying to scare up a lot of commercial this year, my goal is to add at least 5 new monthly contracts this year.
Nice! Is that gauge going to be easy to see? I hate having to get under the bottom of the van to check mine. I guess I could install one and mount it in the van
They actually make a remote gauge, but I am told that they are not always accurate. I plan on cutting an access port on the cargo box's skirting and installing a magnifying glass to make it much easier to read.

Butler does that for the cat pump level indicator and it works pretty well.
Thats plenty big enough if your running just the LG heater from it, should last a week of lots of wanding. Mine is 50gal, but only can hold 38gallons and thats for running both machine and LG.
That is good to hear AC, if I can get a week out of it in the Summer and 2 weeks in the winter, I will be very happy with it.
To be honest, this tank is still sitting in the garage. I ran into a couple of unexpected complications so the project was shelved for a little bit.
The issues came down to how to bolt it up beneath my heater's compartment? Due to the diameter of this tank, the mounting brackets end up about in the middle of the floor instead of near the edge. This causes 2 problems: First, my heater and water tank cover the floor so there isn't room for the bolts; Second, it places the tank about a foot beyond the cargo box skirting, so I have to cut a large window through it to provide access to the fill valve.
What I plan to do this weekend is install a platform to raise the LG heater off the floor, thus allowing access for the tank's mount bolts. I was able to locate an 18x18 aluminum plate that is 3/8 inches thick to be the platform. Once I install some feet to it, I should be able to bolt it to the floor and solve the first problem.....the water tank actually has a gap beneath it that should allow me to leave it in place once I carefully line things up.
Next will be cutting the access window for the tank. My plan is to just cut out the aluminum skirting and install a marine hatch. That way it will have a door to hide the cut-out. Getting the tank to line with the access will be another challenge.
Forecast has it at low to mid-30's for the next 3 days and then it looks like low teens for the rest of the week as a high, so I need to get as much done as possible before the temps bottom out.
Should be "fun" and I will post some photos as I go. I think I have already spent $60 just on the SS hardware for this project, so like all projects, it will be coming in over-budget.

It finally reached above freezing today, so I had a few hours of good light to get this done.  I actually got very lucky and was able to make some modifications that allowed me to slide the heater back far enough to install the belly tank without using the platform.
The fresh water tank is sitting on a couple of strips of horse matting to allow clearance for the bolt heads....not ideal, but I don't use the tank this time of year much anyway.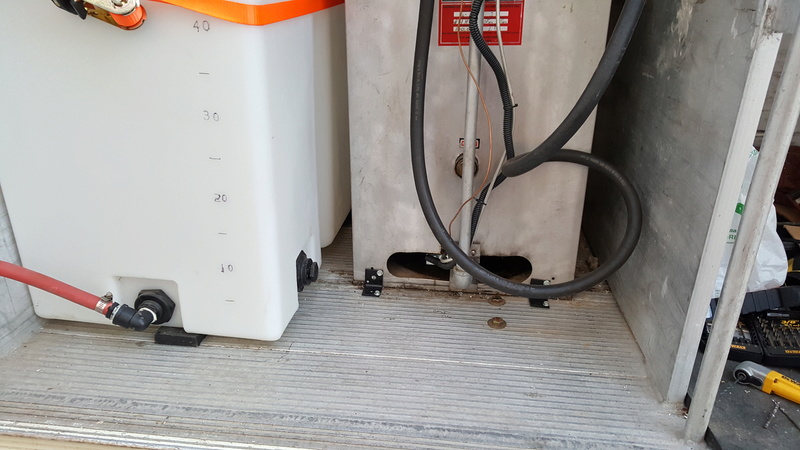 I still need to cut a hole for the LP hose to pass through the floor, cut a window in the cargo box skirting to allow access to the tank, and create a splash guard to protect it from the rear tires throwing debris.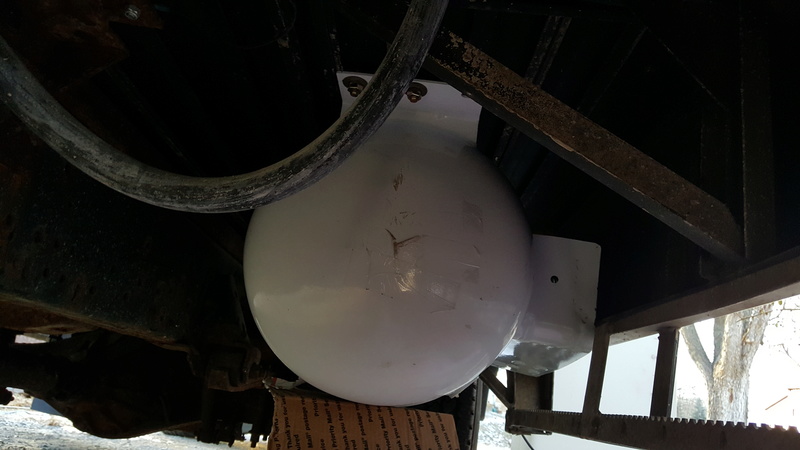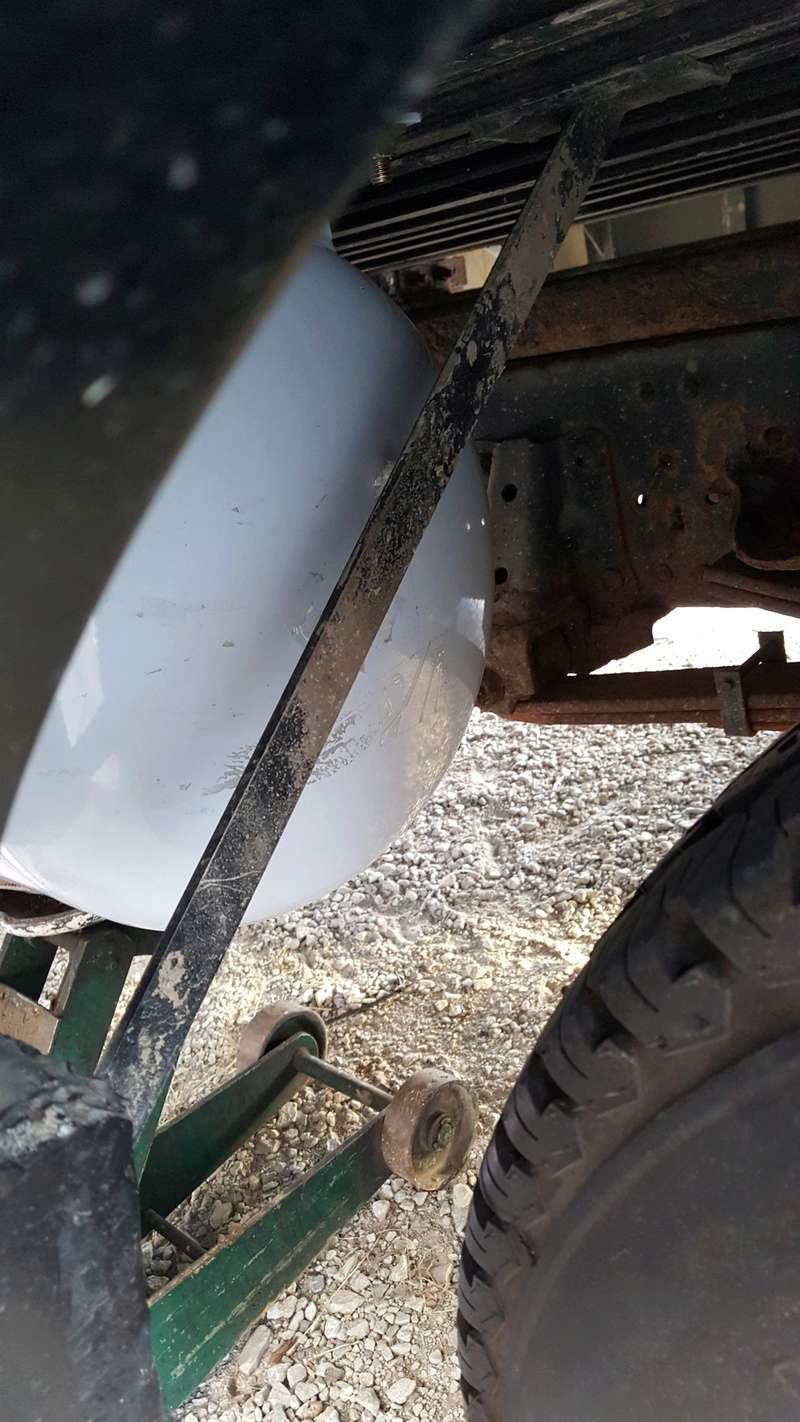 nice looks good!

its that a jack you used to lift the tank up? I had to use blocks of wood then slowly shim it a bit until the tank was at the right height so I could bolt it on.. didnt have many hands to help that day wasnt easy.


That floor jack is older than I am by about 8 years....Dad bought that in 1961 and it weighs about 100 lbs. I don't know how you did it without a floor jack, that could not have been easy.

The hatch door will be here this week and I should be able to rig up a splash guard for it tomorrow as well as route the LP hose. Just glad to see this task getting done thanks to the 32 degree day.
---
Permissions in this forum:
You
cannot
reply to topics in this forum