Latest topics
»
Pricing....ouch
by
Freemind1
Yesterday at 10:29 pm
»
what would you charge
by
Freemind1
Yesterday at 10:26 pm
»
anyone have an idea of why...?
by
milspec6
Yesterday at 10:14 pm
»
Blsck friday/Cyber monday for business?
by
Freemind1
Yesterday at 10:08 pm
»
Dang HF......
by
milspec6
Thu Nov 08, 2018 10:15 pm
»
So I bought a......today
by
milspec6
Wed Nov 07, 2018 10:38 pm
»
favorite citrus booster additive
by
milspec6
Tue Nov 06, 2018 6:54 pm
»
The weather doesn't seem to be slowing me down....
by
milspec6
Wed Oct 31, 2018 3:50 pm
»
Carpet Cleaner Aressted
by
milspec6
Thu Oct 18, 2018 9:13 pm
»
That's a shame
by
milspec6
Wed Oct 17, 2018 6:11 pm
»
Going back in time
by
milspec6
Wed Oct 17, 2018 6:02 pm
»
Expansion of services.
by
Freemind1
Tue Oct 16, 2018 9:35 pm
»
Trying to get on the forum
by
Mo
Mon Oct 15, 2018 9:40 pm
»
Log in problems
by
Mo
Mon Oct 08, 2018 12:48 pm
»
Scaring a Millenial.....
by
milspec6
Sun Sep 23, 2018 9:09 pm

Since I have been out of commission this week, I used my time to finally fix up an old short wave radio that I bought at a garage sale a few months ago.  I grew up listening to AM radio (sports and radio dramas) and there is just something about it that still cheers me up.
This project is a Zenith Transoceanic G500 short wave radio from 1949.  These were the premiere radios of their kind in that era and were also used by the Military during WW2.  Heavy for a portable radio, but this was prior to transistors and still used vacuum tubes, brass chassis, and a wood cabinet.
This one is actually sort of rare in that this particular model was only made for 18 months before they made some design changes.  They have a spring loaded antennae that is about 4 feet long, a second antenna hidden in the top flap that can be used as a directional, multiple bands, and could run off an outlet or with a battery set-up.  I am using a battery box which contains a combination of D-cell and 9v batteries to power different sections.
I didn't have to do much except take it apart, clean it up, re-solder the AC cord and few other adjustments which speaks well for the workmanship after all these years.  They sold probably 500,000 of these things over the years, so they are not very rare and can be found for pretty cheap.  Still, it is a fun radio that was worth the effort this week to bring it back to life.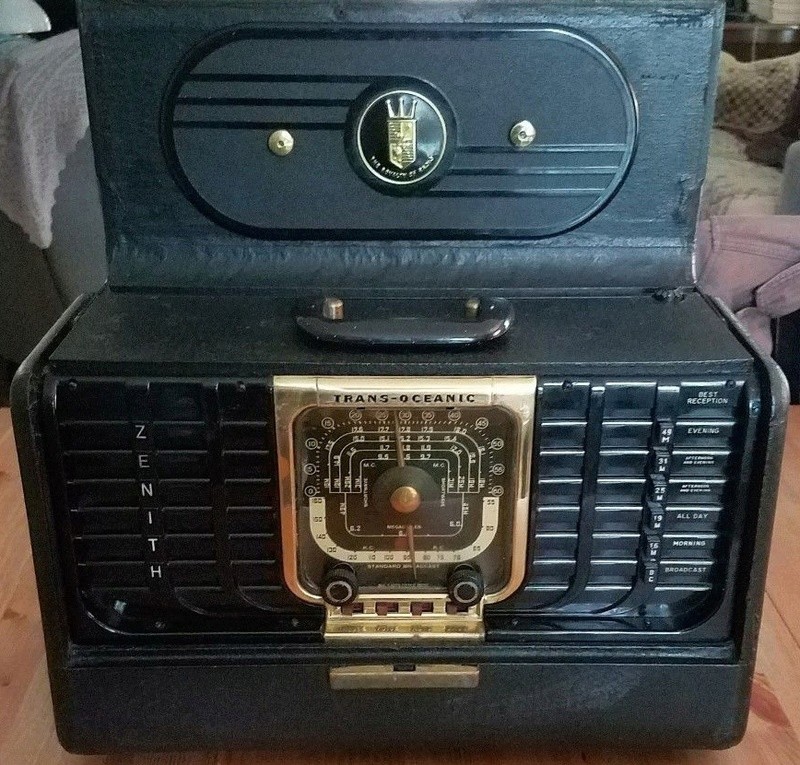 I grew up scanning the a.m. Dial at night. From central Wa. I could pick S.F and salt lake stations.
There nothing like trying to fine tune, into a station.

_________________
Who's your carpet cleaner?

Matt; My carpet cleaner

Senior Member





Posts

: 1404


Join date

: 2013-09-21


Age

: 53


Location

: Yakima, wa.



I agree Matt, I hate how digital scanning radios always seem to end up between stations or just misses them completely because it scans in intervals of only even numbers.

I went from listening to football broadcasts to some radio theater out of Wisconsin. Pretty cool radio to play with.
Cool ! You must love that show American pickers ?

dp1

Moderator





Posts

: 3966


Join date

: 2013-09-19


Location

: california



@dp1

wrote:Cool ! You must love that show American pickers ?
I do actually. As I get older and this world becomes more and more fake, I find myself looking back in time when things were being built with quality.

---
Permissions in this forum:
You
can
reply to topics in this forum