Latest topics
»
hired the competition.....
by
dp1
Today at 2:02 pm
»
What now......
by
dp1
Today at 1:46 pm
»
Expansion of services.
by
milspec6
Yesterday at 4:39 pm
»
Dealing with difficult real estate agent.
by
milspec6
Thu Aug 09, 2018 6:38 pm
»
Convenient store.
by
milspec6
Thu Aug 09, 2018 6:34 pm
»
Glides and silicon's
by
milspec6
Wed Jul 25, 2018 4:56 pm
»
Met the strangest guy in a car deal
by
milspec6
Sun Jul 22, 2018 1:59 pm
»
Everrest acting up
by
ACE Services
Sun Jul 22, 2018 5:37 am
»
They need the old rat cathcer again
by
milspec6
Sat Jul 21, 2018 6:34 pm
»
Upping advertising dollars.....
by
milspec6
Sat Jul 21, 2018 8:54 am
»
Window cleaning tips
by
milspec6
Wed Jul 18, 2018 7:25 am
»
The heat never ends
by
dp1
Sat Jul 07, 2018 11:14 pm
»
lucky to be alive
by
milspec6
Mon Jun 25, 2018 7:19 pm
»
The Box Truck is no more
by
Johnny Bravo
Sun Jun 24, 2018 9:09 pm
»
Vacuum gasket.
by
milspec6
Wed Jun 20, 2018 4:17 pm

on the way home from my last job; driving along the freeway at 70-had front tire blow out. Like, tread seperation blow out, rest of tire was scredded. The traffic was very heavy; luckly the only car was 2-3 car lengths behind me, in the other lane. As the tire blew it pulled me to the left; right in front of the car. if it had happened 3-4 minutes later i would have been on a bridge over a large revine. That wouldnt have turned out good, considering how hard it pulled to the left.
It didnt seem that bad when it happeded, but it could have been real bad.

_________________
Who's your carpet cleaner?

Matt; My carpet cleaner

Senior Member





Posts

: 1364


Join date

: 2013-09-21


Age

: 53


Location

: Yakima, wa.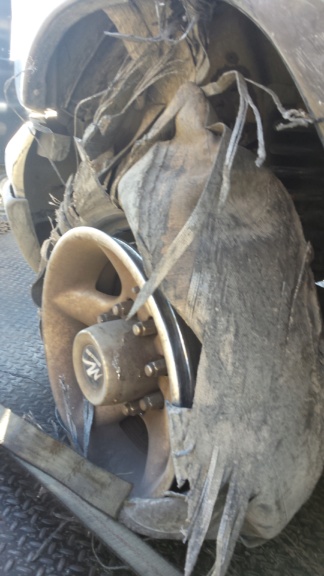 _________________
Who's your carpet cleaner?

Matt; My carpet cleaner

Senior Member





Posts

: 1364


Join date

: 2013-09-21


Age

: 53


Location

: Yakima, wa.



Holy crap, that looks bad!! That will certainly make one think, that is for certain. The only thing I have encountered like that was when my serpentine belt jumped off the pulley at 70 mph. It flew off and immediately tangled up so bad that the engine stopped almost immediately throwing me towards the dash. Like you, I was lucky, it was around 4 am and I was the only vehicle on the road.

Freemind1

Senior Member





Posts

: 1225


Join date

: 2013-09-20



I think God is saying you still have purpose in this world Matt !!
If you have America's tire, I would highly recommend them, they have multi locations here and their road hazard warranty had been VERY useful, so far no questions ever asked, tire got nail on the side wall, they ask for $ 15 for a new road hazard certificate, and that is it, I've gotten 3 new tires so far in 5 years from them.

dp1

Moderator





Posts

: 3940


Join date

: 2013-09-19


Location

: california



Glad to hear you made it out ok. I had a crash yesterday myself. Not as knarly as yours since mine was on a recumbent bike. Rounding a corner at about twenty Miles an hour and the skinny front tire caught a pavement separation and spilled me on my behind. Lucky I was wearing a long sleeve Jersey and gloves to take the brunt on the fall. I ended up with a strawberry on my elbow. It's good to know that at sixty seven I still bounce. On another note we had a family outing at the beach front father's day last weekend and my youngest granddaughter announced "Papa you're going to be a Papa again" I had about given up on another grandchild. Due January first. If it holds off one day it will be my son's birthday.

Rainbow Rider

Active Poster





Posts

: 361


Join date

: 2014-09-02


Age

: 67


Location

: Mililani, Hawaii



Probably a Chinese tire? Glad you're ok Matt.

Way to roll with the slide Rainbow luckily there were no cars behind you
Since we are taling about disasters, I bruised 6 ribs today after falling onto a steel storage shelf that I was delivering. He were experiencing heavy rains when I was carrying a package to the front door and stepped on some mud from the washed out lawn...feet flew out from under me and I landed on with my right side on top of the package. Finished the route over the next 4 hours and tried to convince myself that it wasn't bad, but by the time I got home things really started to get sore. Hell of a way to start out, crippling yourself on your first day delivering solo.

I am on for the rest of the week through Saturday so it will be an uncomfortable stretch, but I have been there before and should be able to get through it as long as I move carefully and set down packages in a deliberate motion. Nothing like a 4-6 week reminder that you are not invincible anymore.
Your employer probably thinks you're going to file for disability
I don't know why they act the way that they do really. They lose 58% of all new hires in the first 6 months and yet they continue to have zero acceptance for things such as inuries, damage to equipment, or just plain slow performance. Even the veterans seem to walk around on egg shells at times. Oh well, Bumbles bounce and pain can't hurt you, so it will just be another irritant while it heals.

Being old makes you pretty used to pain on a daily basis...shouldn't be much different.

---
Permissions in this forum:
You
can
reply to topics in this forum