Latest topics
»
So has this forum too, went the way of extinction too?
by
Mo
Wed May 01, 2019 9:13 pm
»
Roll call....
by
ACE Services
Sat Apr 06, 2019 4:59 am
»
New moves for business 2019
by
ACpower1
Tue Feb 19, 2019 12:48 am
»
Government shutdown
by
ACE Services
Tue Jan 22, 2019 5:35 am
»
Stepped back in time
by
Mo
Mon Jan 21, 2019 11:47 am
»
.....Christmas ever
by
Mo
Mon Jan 21, 2019 11:46 am
»
have you ever use dyson for cleaning ?
by
milspec6
Mon Dec 17, 2018 10:22 pm
»
Water Heater
by
Mo
Mon Dec 17, 2018 8:31 pm
»
anyone have an idea of why...?
by
milspec6
Fri Dec 07, 2018 11:03 pm
»
I don't know squat
by
Matt; My carpet cleaner
Wed Dec 05, 2018 11:14 pm
»
what would you charge
by
Mo
Sun Dec 02, 2018 8:01 am
»
Frozen cleaning for practice
by
milspec6
Wed Nov 21, 2018 9:33 pm
»
for the Holidays........
by
Matt; My carpet cleaner
Tue Nov 20, 2018 9:20 pm
»
Pricing....ouch
by
milspec6
Sat Nov 17, 2018 8:37 pm
»
Blsck friday/Cyber monday for business?
by
Freemind1
Thu Nov 15, 2018 10:08 pm

I purchased a used car at an estate sale last week, but was not able to close the deal with the seller because he refused to meet after work hours.  I was finally able to convince him today and we met up about an hour drive away.  He insisted on meeting in a shopping mall parking lot and when I got there, he was sitting in the car with the doors locked.  He wouldn't get out until my Brother (drove me down to get the car) returned to wait at his own car.  Then the seller re-locked himself in the car to count the money before he would do anything else.
It gets worse.  He had the bill of sale authored by his lawyer and even had me sign a duplicate of the title and bill of sale "for his records".  Then he waved to another person who got out of a mini-van and came over to notarize the documents.  I couldn't believe how paranoid this guy was, it was like he had never sold anything in his life before.  I was laughing at how crazy this deal was going, but focussed on the car instead.
I did good, it is an old car (2003 Lincoln Town Car Signature), but it was a 1-owner with 65,000 miles and just about every option available that year.  It even had all the original manuals AND the window sticker which was kept in a sealed pouch.....$48,000 car in 2003.  I couldn't find a single mechancial flaw, it drove like a new car and all options worked.  It even had new tires and 12 years of dealer service records.  The interior was mint, but smelled of Old Spice (previous owner is 84 years old) with a great exterior, but does need some polishing due to some bird droppings.  It is amazing what you can get for $4,000 cash these days if you look around.  You just have to deal with strange people along the way.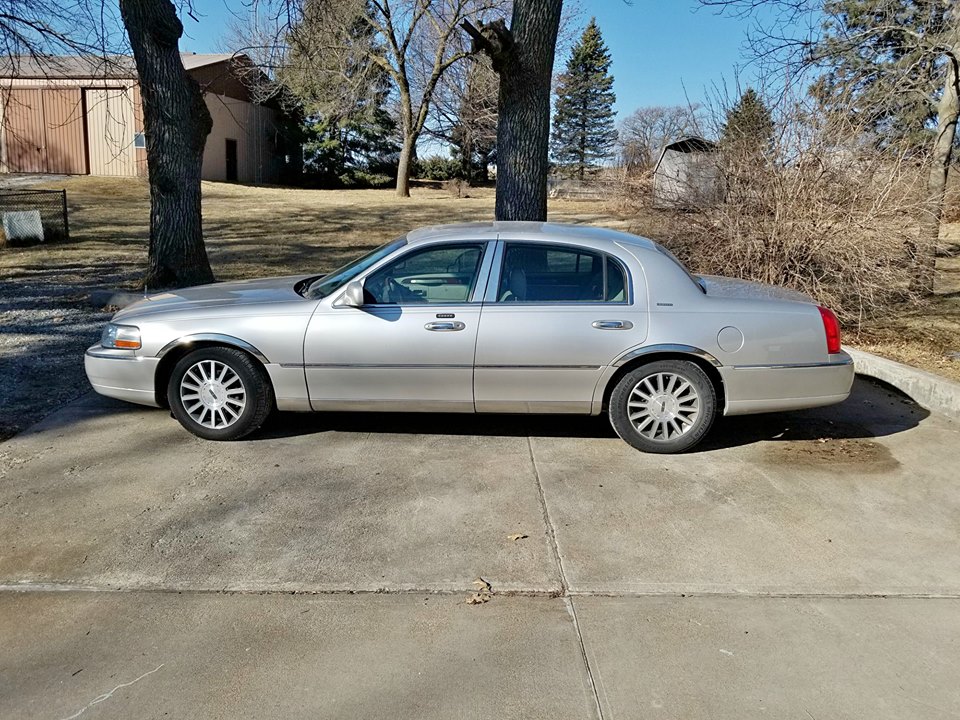 Wow ! That is a sweet ride ! I had been in those Lincoln towncar and they are SUPER comfortable.

Great deal ! Bizarre experience, I'm pretty sure he's going to hire armored vehicle to carry the $ 4000 for him if he were to do the transaction in LA, lol.
He really was a strange little man, the kind that would find a bucket of money buried in his yard and call the IRS to ask if he was required to pay taxes on it.  It is a very comfortable car, just waxed it up and it turned out really well.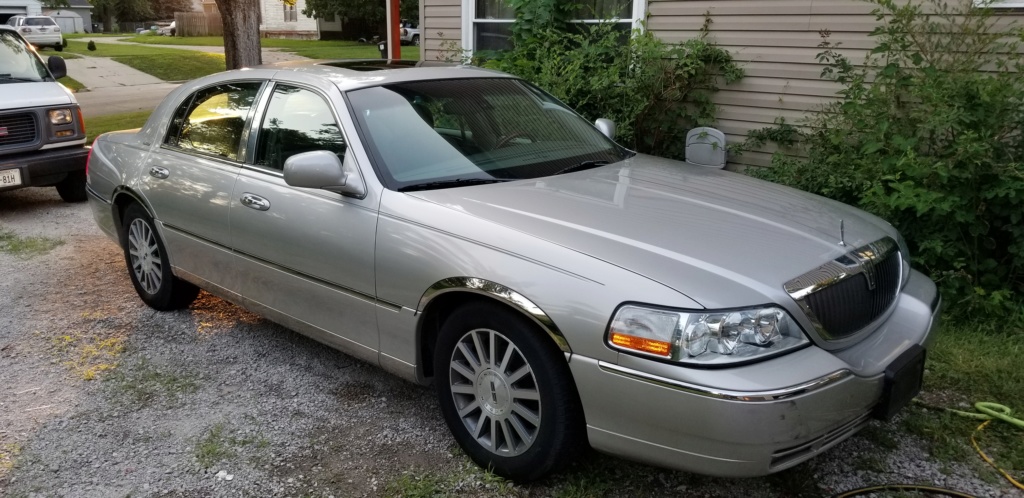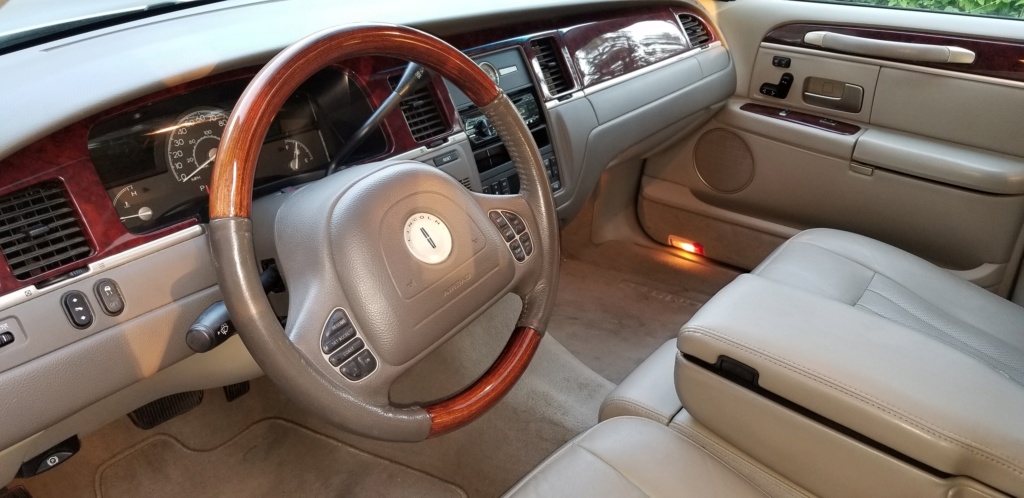 Having fun in that car ? Have you drifted it yet ? Lol
No drifting, just an old man rolling by.

This really is a great car, can't believe people don't like these vehicles. I have tried very hard to find flaws and even took it to the body shop for them to look close for any issues. Outside of a rub on the front bumper, a minor bend to the lower door chrome, and a tiny rust bubble the size of a pencil eraser on the inside of the drivers door, they couldn't find anything. Super clean underneath as well. It was a winner.

The real issue is that I was looking for a daily driver for work commutes and I now feel like I need to keep this in the garage except for nights out. I certainly don't want to introduce it to snow and road salt, so I might have to keep looking for a beater. I worried about that when I looked at it, but for the money, I could not pass it up.
Bob, can't you install simple hose with jets on the ground facing up and drive the car forward while the water is running to rinse the underbody of the car of road salt ? I know it's one extra thing you need to do in frigid temperature that you don't want to do after walking for so many miles.

I think the reason people don't like those cars are reliability issues ? But I think that issue has a LOT to do with the way you drive and maintain the car as well.

Your comment got me to think, body shops in your area probably do a lot more rust repair rather than accident ?
Do most people replace their car after so many years down there or spend the $$ on the rust repair ?
What about your work van ? Have you done any rust repair yet ?
You are correct on that Dp, rust is the biggest thing around the midwest with most people just getting a new car every 5-7 years instead of repairing the rust. The only way to avoid it is to never take the car out in the winter after a snow. This Lincoln spent its winters in Florida where the couple lived seasonally. I can't move to Florida, but will try and keep it garaged as much as I can.
Oh and sorry for suggesting such a dumb idea, I forgot when it's freezing, the water would freeze, lol, I just thought about it, you would end up with ice from the jets to the bottom of the car, that's IF there is water coming out of the hoses / jets, wow.
There is reason that we value vehicles from out West, you could buy them up and ship them to the midwest for a good profit....many do. It is also why I never buy a car new out here, by they time it is paid off you don't really want it any more as the rust will start showing. The last new car I bought was when I was stationed in California.

---
Permissions in this forum:
You
can
reply to topics in this forum