Latest topics
»
RX20 for sale
by
ACE Services
Mon Jun 10, 2019 12:25 pm
»
So has this forum too, went the way of extinction too?
by
Mo
Wed May 01, 2019 9:13 pm
»
Roll call....
by
ACE Services
Sat Apr 06, 2019 4:59 am
»
New moves for business 2019
by
ACpower1
Tue Feb 19, 2019 12:48 am
»
Government shutdown
by
ACE Services
Tue Jan 22, 2019 5:35 am
»
Stepped back in time
by
Mo
Mon Jan 21, 2019 11:47 am
»
.....Christmas ever
by
Mo
Mon Jan 21, 2019 11:46 am
»
have you ever use dyson for cleaning ?
by
milspec6
Mon Dec 17, 2018 10:22 pm
»
Water Heater
by
Mo
Mon Dec 17, 2018 8:31 pm
»
anyone have an idea of why...?
by
milspec6
Fri Dec 07, 2018 11:03 pm
»
I don't know squat
by
Matt; My carpet cleaner
Wed Dec 05, 2018 11:14 pm
»
what would you charge
by
Mo
Sun Dec 02, 2018 8:01 am
»
Frozen cleaning for practice
by
milspec6
Wed Nov 21, 2018 9:33 pm
»
for the Holidays........
by
Matt; My carpet cleaner
Tue Nov 20, 2018 9:20 pm
»
Pricing....ouch
by
milspec6
Sat Nov 17, 2018 8:37 pm

I walked into an auto parts store today for some oil and over-heard an elderly customer buying a new air compressor.  He said that his old one still works great, but it is old and he wants to replace it.  He went on to say that it was an 80 gallon, 230v, 5 hp compressor.
I asked him how much did he want for it?  He seemed surprised that anyone would want such an old air compressor and told me that I could have it for free just for removing it.  He did warn me that it was VERY heavy.
Well, the air compressor seemed to work flawlessly with the exception of a belt needing to be replaced and a need for a cleaning.  He was also right, it was damn heavy and he was in his 70's so this one was all mine.  Had to be 250 lbs at least, but after draining the oil and some water from the tank, I had it tossed in the truck and moved to my garage.
I think I did well.  The data plate says 1981, but I haven't found anything as to the cfm output...I am guessing 22 cfm based on past experience.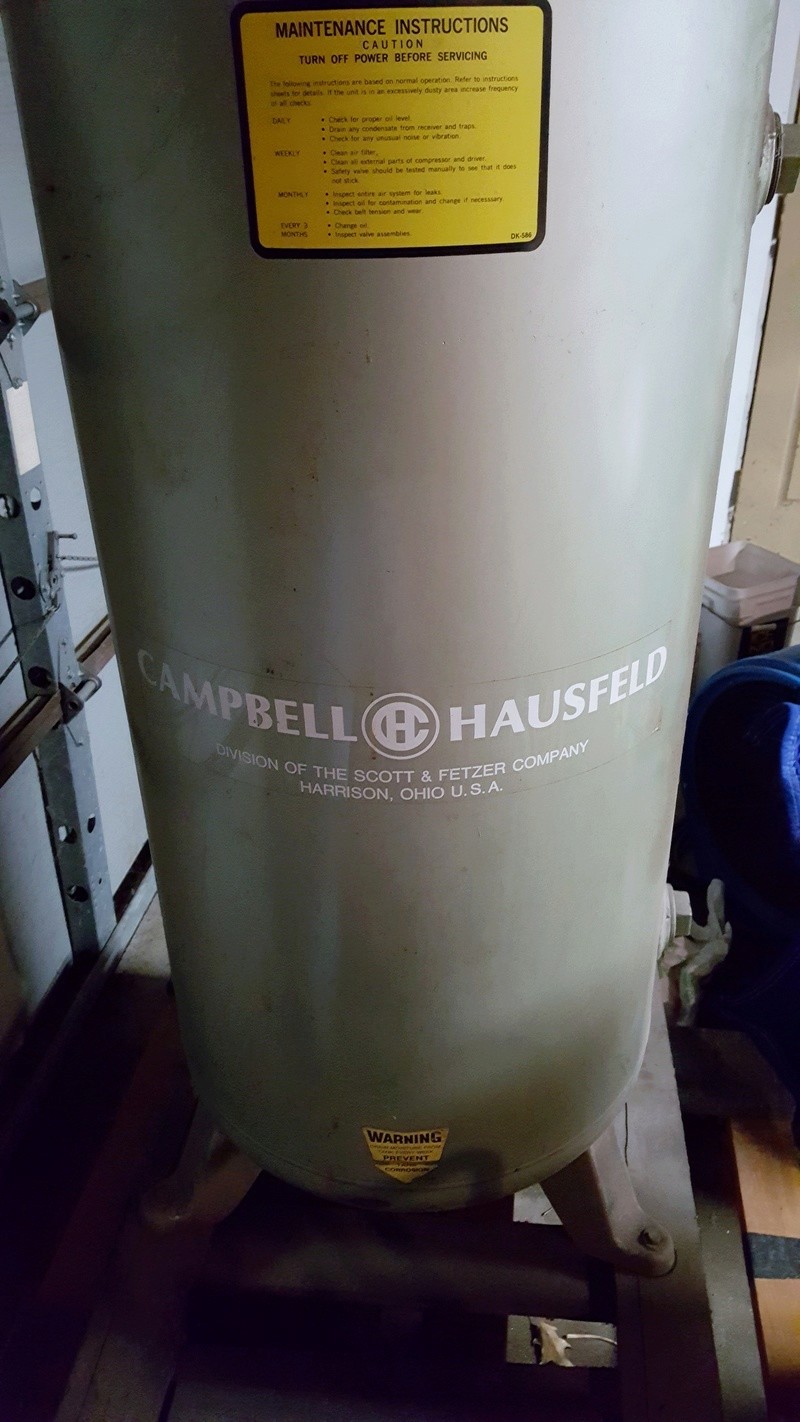 Well, that old guy is nuts. Everything on the top of that compressor is replaceable. You can get a new motor and pump if they go bad.
That tank is made of heavier gauge steel and likely better quality steel than of today's tanks. THAT would be the only reason to replace a compressor, is when the tank rusts a hole in it.

A new 230V unit like that runs close to 2K. A motor or a pump, neither cost more than 500 I believe.

Freemind1

Senior Member





Posts

: 1282


Join date

: 2013-09-20



So far, it all works well. Runs well and holds pressure. I am still going to flush the tank and install an extended drain valve.

I have no need for it though until the Spring when the garage gets rewired. Then I can plumb the place with air lines.

The things people throw away.
Wish I could get a deal like that.
One man's trash is another man's treasure.

ACE Services

Truckmount Mechanic





Posts

: 813


Join date

: 2013-09-23


Age

: 57


Location

: Cameron NC



It sure is ACE, I have been looking for a deal like this for a few years now. I don't use enough air to warrant spending a grand on an upright, but free + parts I will gladly do.

---
Permissions in this forum:
You
cannot
reply to topics in this forum