Latest topics
»
RX20 for sale
by
ACE Services
Mon Jun 10, 2019 12:25 pm
»
So has this forum too, went the way of extinction too?
by
Mo
Wed May 01, 2019 9:13 pm
»
Roll call....
by
ACE Services
Sat Apr 06, 2019 4:59 am
»
New moves for business 2019
by
ACpower1
Tue Feb 19, 2019 12:48 am
»
Government shutdown
by
ACE Services
Tue Jan 22, 2019 5:35 am
»
Stepped back in time
by
Mo
Mon Jan 21, 2019 11:47 am
»
.....Christmas ever
by
Mo
Mon Jan 21, 2019 11:46 am
»
have you ever use dyson for cleaning ?
by
milspec6
Mon Dec 17, 2018 10:22 pm
»
Water Heater
by
Mo
Mon Dec 17, 2018 8:31 pm
»
anyone have an idea of why...?
by
milspec6
Fri Dec 07, 2018 11:03 pm
»
I don't know squat
by
Matt; My carpet cleaner
Wed Dec 05, 2018 11:14 pm
»
what would you charge
by
Mo
Sun Dec 02, 2018 8:01 am
»
Frozen cleaning for practice
by
milspec6
Wed Nov 21, 2018 9:33 pm
»
for the Holidays........
by
Matt; My carpet cleaner
Tue Nov 20, 2018 9:20 pm
»
Pricing....ouch
by
milspec6
Sat Nov 17, 2018 8:37 pm

Tackled an auditorium last night (actually just got home about an hour ago) that on paper seemed like a simple enough task.  About 350 seats and less than 3,000 sqft of carpet.  Turned into a monster of a job though.
Why was it a monster of a job?  Because the seats are lower than my knees.  It was like doing toe-touchers for 6 hours....I am pretty darn sore.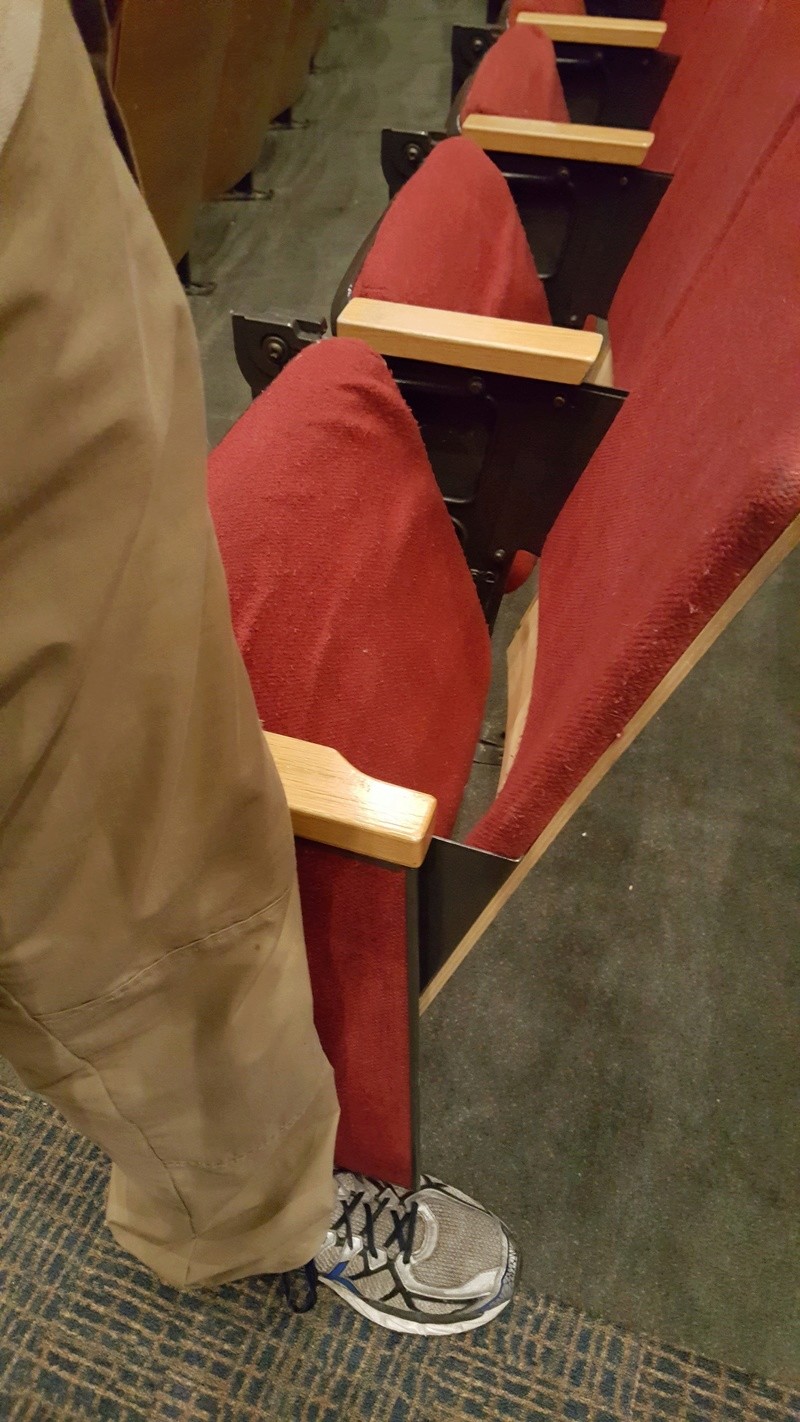 I was never so happy to see my truck waiting for me.  It was so inviting after that job...to just sit down.
Wow, that's crazy ! I have to price that job pretty high to compensate the pain after the job is done.
Looks like the seats are pretty worn too, but then with extended hose length, stretching of fabrics should be eliminated ?

dp1

Moderator





Posts

: 3966


Join date

: 2013-09-19


Location

: california



Those seats are almost 50 years old....wool. The cushions are crushed after all those years so the fabric on most of them are pretty loose. I have to grab the ends and pull tight just to clean them....really slowed the process down.

I went back tonight to do some work with the alligators and checked on the seats. I have to say, for 50+ year old seats, they looked pretty darn good. A far cry better than the theater seats I clean that are 12 year old poly-olefins.

I miss wool fabrics.
As our parents always say, they don't make things as good as they used to, it's all about the profits, the quality days are over a while back.
I agree, there isn't much that can compare to the old. I still shave with a Gillette Fat Boy from the '50's, use Coleman lantern and stoves from the '50's - '60's, and live in a 1860 house.

None of the old was built to be disposable...even the diapers.
Wow rhat loose fabric is a pain to clean and 350 of them arrgh. But it sure is nice seeing you bring in the cash especially this time of year
So true Mo on both counts! Normally, I end up with almost zero work from Dec-Feb with a big month in March. Work continues to trickle in this month with 3 referral houses next week booked.

I am sure not getting rich, but the winter hasn't killed me yet and we still have nice weather for another week. Well, at least above freezing in the daytime which is really warm for this area.

Thankfully, no more chairs for awhile though. My second day soreness is slowing me down considerably.
Out of curiosity how long does it take you to get all of the seats done ? And how long does it take you to get everything done ?
I'm also surprised you used the box truck to get that done, isn't it already at single digit there at night ?
I have been running the box truck when the temps are above freezing and then winterizing post job. It gets expensive after awhile having to keep pushing antifreeze through it, but I accept the reality now.

I was slow on those seats. I don't know if it was the hoses getting snagged in the rows, the low mounting of the chairs, having to stretch the fabric, or if I am just out of shape, but I was pretty slow.

The building was 100 feet away and the hoses ran another 125 feet inside. Set-up was slow due to the water being shut off so I had to run 250 feet of garden hose to another building, that took 25 minutes.

Chair total took me a little over 6 hours...carpet another 2 hours. I was expecting just a little over 5 hours for the chairs and 90 minutes for carpet, but I was not able to push fast enough.

Load up and winterization another 30 minutes followed by a 45 minute drive home. It was a long evening that started at 5 pm.

---
Permissions in this forum:
You
can
reply to topics in this forum