Latest topics
»
Connection with the largest contractor in my area.
by
milspec6
Today at 8:14 pm
»
Repeat cust didn't pay !
by
milspec6
Today at 8:11 pm
»
Another mess
by
milspec6
Fri Jun 23, 2017 4:07 pm
»
You know it is hot when you turn down jobs
by
milspec6
Fri Jun 23, 2017 2:56 pm
»
Why I was away
by
milspec6
Wed Jun 21, 2017 10:11 pm
»
Pressure washer help
by
steamprony
Wed Jun 21, 2017 9:02 pm
»
that's a 1st, ugh!
by
milspec6
Tue Jun 20, 2017 10:20 pm
»
After a long winter
by
milspec6
Tue Jun 20, 2017 10:19 pm
»
Setting customer expectations.
by
milspec6
Tue Jun 20, 2017 10:14 pm
»
Adding on work while you are there.....
by
Freemind1
Tue Jun 20, 2017 8:36 pm
»
Happy Father's day !
by
Mo
Mon Jun 19, 2017 1:03 pm
»
Hi From Scotland
by
milspec6
Thu Jun 15, 2017 1:25 pm
»
Thought on my pricing.
by
Freemind1
Wed Jun 14, 2017 8:43 pm
»
any fishermen?
by
Freemind1
Wed Jun 14, 2017 5:52 am
»
Urine Stain Charges
by
milspec6
Mon Jun 12, 2017 10:27 am
Well, I picked up the LG coil from the Navy welders today.  I am really not sure what to think about the repair.  I told the story already about how they replaced the center pipe and discovered a crack around the drain housing that they could not close up due to metal composition.  They tried all day, but kept ending up a pinhole leak.  They finally said that they were able to repair it.
When I picked it up, I was surprised to see that they repaired that pinhole section with what appeared to be JB Weld.  I was not real impressed until they explained that it was actually a product called "Belzona Super Metal" which is like JB Weld on steroids.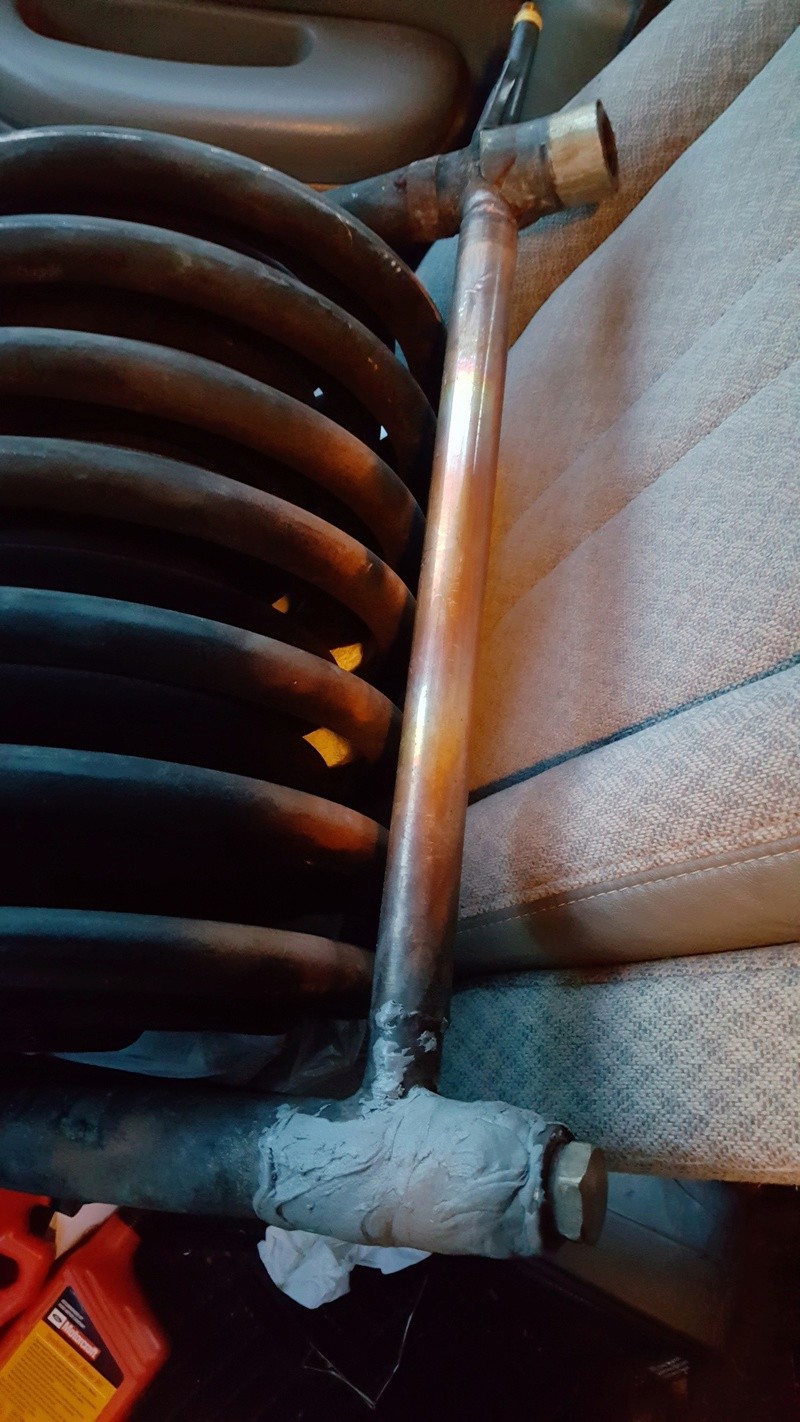 These welders spend a lot of time repairing pipes and large pumps for the Navy.  They told me that this product is used in the industrial world including Nuclear Power plants to repair cracked pump housings, fill pitted metal, and even shape parts.  I still just envisioned JB Weld and was not happy, especially when there was no way to remove this stuff without a jackhammer.
To appease me, they connected it to a pressure washer and ran it up to 1,200 psi for 10 minutes....held fine, no issues.  This coil is rated to 1,300 psi, but I clean at 450-550 and even on tile rarely go beyond 800 psi, so that made me feel better.  The issue will be the temperature.
I looked up the specs on this Belzona and this is what I found:
= Rated for up to 12,900 psi
= Rated up to 200 degrees submerged and 392 degrees dry
As you can see, psi will not be a concern, but that 200 degrees could be an issue.  The material isn't "submerged" but will have a pinhole contact with hot water.  The area repaired is at the drain plug so it will not be exposed to the burner, but it can certainly run water at higher temperatures.  I suppose that I could turn the temperature down to the lower setting and hope to stay down around 200 degrees, but I don't know if it will work for very long.
So, I need to decide if I should install it now and hope it holds for awhile or save it until Spring.  Either way, it looks like I need to order a replacement coil so maybe I wait and just install a new coil come spring and keep this as a back-up?
Personally, I wouldn't waste my time with it. I'm sure the coil itself gets too hot for this to hold.

You'll be pissed if you put this back together and it fails again.

IMO, the coils has been repaired too much. It's scrap. The discoloration of the copper tells me it's looking to blow holes again.

Freemind1

Senior Member





Posts

: 974


Join date

: 2013-09-20



I sort of feel the same way about it. I will be shopping for a new coil soon.
Thats kind of funny Bob I think they just threw in the towel.

If that section is at the bottom of the coil the flame is going to be right on it.

The best place for LG coils and heaters is Steambrite. Dont know how long it will take to receive but if if youre not in a hurry I would order it from there.


Does little giant pay for the return shipping on a coil repair?

Seems to me a little silver sorder would have been a better fix. I mean it's not like its not already broke (leaking) hello. And I no trained welder.

ACE Services

Truckmount Mechanic





Posts

: 745


Join date

: 2013-09-23


Age

: 55


Location

: Cameron NC



They tried ACE, I was there. There was a hairline crack beneath the heat shield and they tried to tig weld it with copper at first, but it just pushed the crack around. Then they hit it with silver solder, but there was always a pinhole when they pressurized it. Then they tried to cap it with a copper plate welded down, but it kept failing under pressure. They finally gave up.

This final step was their Alamo plan. That part of the coil isn't directly over the flame, Mo, it sticks out farther. It still may not handle the heat though....just don't know.

I am just going with a replacement coil or even just a replacement heater altogether, but it will wait until Spring. Running these heaters this time of year around here has been a nightmare and I don't want to lose another one.


Well, I can tell you from what I know and have learned over the years of welding, they didn't stop the crack right, otherwise they would not have needed to follow it around. You are supposed to take a grinding wheel and cut a intersecting line across the end of it, to stop it from growing.

I know these guys are pros, and probably really good at what they do. That's just not what I have been taught/learned over the years.

Freemind1

Senior Member





Posts

: 974


Join date

: 2013-09-20



I don't doubt your skill, nor theirs. They said it themselves, they are "not plumbers" and anything copper is pretty much plumbing. They are great welders / pipe fitters....this was not their normal thing to work on.

At this point, that stuff isn't coming off, so to repair it differently would require major surgery. A new coil is needed.
---
Permissions in this forum:
You
cannot
reply to topics in this forum